Redefining Fashion Sustainably: Elemental's Coffee Shirt - 100% Sustainable Apparel Crafted From Used Coffee Grounds and Recycled Plastic Bottles. Elevate Your Style With the Eco-Conscious Shirt that Reduces Waste and Embodies Sustainable Fashion.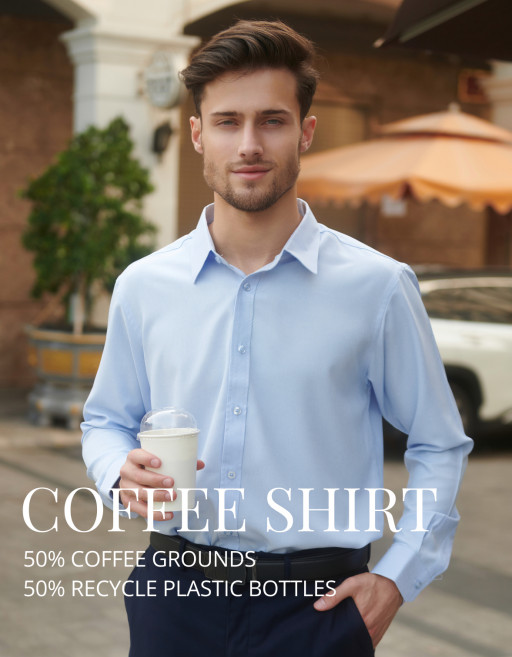 Elemental Coffee Shirt

Coffee Shirt is crafted from used coffee grounds and recycled plastic bottles

LOS ANGELES, June 27, 2023 (Newswire.com) - Elemental has always been at the forefront of creating innovative, eco-friendly products that enrich people's lives. While we are best known for our pioneering drinkware and lifestyle products, we're excited to announce our latest offering - the Elemental Coffee Shirt. This cutting-edge type of garment is a testament to our commitment to promoting sustainable and eco-friendly practices in all aspects of life. Crafted from a unique blend of renewable materials of 50% coffee grounds and 50% recycled bottles, the Elemental Coffee Shirt is a durable and comfortable garment that looks great and contributes to a more sustainable future.

"We believe that fashion can be both fashionable and sustainable. With our eco-friendly apparel products, we're not just making a statement, we're taking action toward a greener future. Our commitment to the environment is woven into every thread of our garments, and we hope that our customers will join us in making a positive impact on the world," said Seth Inyang, Co-Founder of Elemental.

Why should everyone be thrilled to wear it? Coffee shirt's coffee grounds absorb odors your body produces throughout the day. The fabric consistently transfers moisture from the skin to its outer surface, allowing for quicker drying. Compared to cotton, Coffee Shirt sustainable technology provides 3x more odor control. The fabric clothing can effectively improve drying efficiency by 50% compared to other commonly used fabrics. Also, it provides 5x more UV protection. Lastly, it has a sustainable yarn that can cool down human skin temperature by about 1 to 2oC compared to common fabrics.

Moreover, the Elemental Coffee Shirt is not only eco-friendly and high-quality but also stylish, versatile, and affordable. It can be worn as a casual shirt or dressed up for a more formal occasion, making it a perfect addition to any wardrobe.

About Elemental:

Elemental was founded in 2016 by Vinh Lieu and Seth. It has launched a groundbreaking new apparel line featuring dress shirts made from innovative used coffee grounds and recycled water bottles, in addition to sustainable drinkware products they're known for. By creating high-quality products from eco-friendly materials, Elemental is taking action toward a greener future while providing customers with top-notch goods. Through its commitment to sustainability, Elemental has found a way to benefit both people and the planet.

For more information, visit www.liveelemental.com today.

Contact Information:
Gwen Nguyen
Marketing Director


[email protected]


6577774179


Original Source: Fashion With a Purpose: Elemental's Coffee Grounds Fabric Redefines Sustainable Style
The post Fashion With a Purpose: Elemental's Coffee Grounds Fabric Redefines Sustainable Style first appeared on RSVTV news.
Fashion - RSVTV news originally published at Fashion - RSVTV news